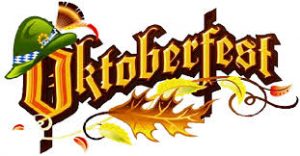 The last day to sign up will be this Sunday, October 8th during coffee hour. There is a sign-up sheet on the door of the main office and one in the kitchen.
Have you ever tasted Warsteiner beer? Do you put Ingelhofer mustard on your brats? If you have not, please join us for our fun Oktoberfest on Saturday, October 14th, at 6:30pm in the Fellowship Hall for a beer and wine fest.
We will be serving several different German beers and wines, with a hearty German meal of bratwurst (with all the fixins'), potato salad and Bavarian desserts. If beer/wine do not interest you, please just come for the fun and some Apple cider, German pretzels, and root beer, which will also be available for your delight.
We will be serenaded with German songs, and polka dancing is possible, so bring your favorite beer stein, and your lederhosen (or dirndl skirts) for a thoroughly enjoyable evening with our church friends.
Given the substantial servings of the meal and beer, admission cost will be $15 per person. Sign-up sheets will be available during coffee hour and in the office. All are welcome! Bring your friends
https://firstparishwestford.org/wp-content/uploads/2016/03/logo4-web-300x86.jpg
0
0
Beth Perkins
https://firstparishwestford.org/wp-content/uploads/2016/03/logo4-web-300x86.jpg
Beth Perkins
2017-10-06 12:38:25
2017-10-06 12:38:25
Oktoberfest-last day to sign up-10/8