Racial Justice Book Club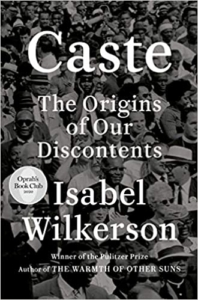 Action for Social Justice read the book "Caste" by Isabel Wilkerson in February/March 2021 and participated in three discussion meetings.Twenty-four people attended and their feedback and comments are below.
Our next Book Club read will be scheduled soon.
#1 NEW YORK TIMES BESTSELLER • OPRAH'S BOOK CLUB PICK • LONGLISTED FOR THE NATIONAL BOOK AWARD • "An instant American classic and almost certainly the keynote nonfiction book of the American century thus far."—Dwight Garner, The New York Times
Comments from Participants:
"Caste opened my eyes to the extent of caste in our culture and history… I look forward to continuing the dialogue and doing what I can in my life to make a difference."
– Sue Cusson
"Yes, I would most definitely recommend this book to a friend. I plan to buy it for my bookshelf to share with others, as it was an important read that had an immediate impact on the way in which I view everyday personal interactions and events we hear in the news whether politics or just everyday happenings…Meeting in a book club gave me motivation to push through the book, especially the first 100 pages."
– Jennifer Scarano
"Absolutely I recommend this book. Caste is an essential read for our times identifying the structures and systems that support the discrimination and racism inherent in American Society and culture . The eye opening comparisons with India's Caste system and Nazi Germany's plan to eliminate Jewish existence using American discrimination, give insight to the abuses of dominant caste privileges. I would also recommend Wilkerson's book, The Warmth of Other Suns for the unfolding stories of the great migrations of thousands of former slaves and sharecroppers fleeing the oppressive caste system of the South.
Insight shared is exponential! Reading and discussing together in the Book Club enriches my learning."
– Dirkje Legerstee
"Caste provided me with a better understanding of the treatment of African Americans throughout the history, facts that I had never really learned in school. I also understand and appreciate the urgency behind the Black Lives Matter movement. If we are to educate ourselves about the politics and social and racial inequity that continues to exist in our country, this is an excellent tool.
During the discussions people shared personal experiences and other sources that they had read that helped put the information in context. I would also have taken so much longer to read the book if I hadn't had to keep to a schedule."
– Stephanie Devlin
"As a white woman it was hard to read, but I'm glad I learned so much about racism in the US and about the larger concept of castism.
I really enjoyed my experience participating in the Caste book club. The topic was difficult and complex. It was helpful to join a group of people who sought to understand the author's message and discuss productive ways to respond to the message. It's not a book I would want to read by myself."
– Amy Burk
"I already have recommended this book to friends. There are certain books that you feel people would get much out of but this book is on a whole other level. It is 1 of those books that gives you awareness that we should have but very well might never had received & its life-changing.
This type of history & information calls for processing and the book club meetings provided just that. In this processing you're able to share your takeaways but equally as valuable is to benefit from others' views."
= Tim Deren
"Caste is excellent. The style is lucid. The analogies among American racism, Indian castes, and Nazi persecutions are compelling. I now appreciate how systemic racism is, and how racial inequities have persisted decades after the era of civil rights, equal opportunity, and affirmative action. The view of America's political divide as a battle to preserve the caste hierarchy explains much.
I greatly enjoyed the discussions. Thanks to the organizers and discussion leaders. The small breakout groups in Zoom worked well. Everyone was prepared, thoughtful, and courteous about all points of view."
– Mark Tincknell
"I would definitely recommend this book to not only friends but casual acquaintances! 🙂 Ms. Wilkerson speaks not only from personal experience, but also presents data and compelling historical references, cultural perspectives and others' stories about the caste systems in 3 countries. These systems which are imprisoning for all vary in many ways, but their similarities are compelling and cause the reader to really re-evaluate America's and Americans' history of both real and invisible caste since "foreigners" first came ashore here. There are many books about the black (and white) life in our country. This is a very good one that is easily digestible and complements those of, for example, Ta-Nehisi Coates.
Hearing others' thoughts on what we all read expanded my own reactions and reflections and I also enjoyed the opportunity to hear others' backgrounds and stories and experiences of caste and minority/majority living in America. Serious and personal discussions like we could have in the smaller "breakout" (zoom) rooms brings us closer together and hopefully fans the spark of actively working to make things better for both the dominant and subdominant castes in are area."
– Emily Teller
"Yes, I would recommend this book to a friend (already have). I honestly do not think many people have thought of racism in our society as a caste system. However, after reading this book it is very clear.
Definitely having the resource questions,helped the discussion explorations. Also hearing other people's perspective helped me think more deeply about the fundamentals of understanding the United States caste system and begin the journey of how to be an ally so to dismantle it one person at a time."
– Ellen Martins
"Incredibly thought provoking look at the caste system under Jim Crow. It was good to learn and hear other's experience with Caste."
– Janice Maienza
"I would probably not recommend this book. There are others I've found more compelling – The New Jim Crow, by Michelle Alexander (although this is super dense), Whistling VIvaldi by Claude Steele, Bad Boys: Public Schools in the Making of Black Masculinity by Ann Arnett Ferguson.
That said, the way Wilkerson lines out caste as structure to talk about race in the United States is very powerful. The vignettes in the book give the reader a lot to bring that structure to life.
Book Club was great. I loved hearing others' impressions and how the book built upon or challenged their personal experiences."
– Katie Sawrey
"I would recommend this seminal book to friends, acquaintances and enemies alike because of it's clear, easy to read description of the existence of racial injustice in America and how we are all affected by it.
Being able to discuss this book with others made the reading experience more enjoyable and comprehensive."
– Angela Harkness
Resources
America's Enduring Caste System New York Times Magazine. Isabel Wilkerson
What's the issue with Noah's son seeing him naked? Massachusetts Bible Society
Interviews
"Isabel Wilkerson: Writer" in "You Said Hope," essay By Jacqueline Woodson, interview by Justine Goode, Vanity Fair, September 2020.
"Isabel Wilkerson, 'Caste' (with Bryan Stevenson)," Politics and Prose, August 20, 2020.
"'Racism' Did Not Seem Sufficient: Author Isabel Wilkerson on the American Caste System," Justin Worland, TIME, July 23, 2020.
"Isabel Wilkerson This History is Long; This History Is Deep," On Being with Krista Tippett, November 17, 2016.
"Race And 2016: Isabel Wilkerson Weighs In," The Last Word, MSNBC, 2016.
Q&A with Isabel Wilkerson, C-Span, 2010.
"Great Migration: The African-American Exodus North," Fresh Air with Terry Gross, 2010.
Articles by Isabel
"America's 'untouchables': the silent power of the caste system," Isabel Wilkerson, The Guardian, July 28, 2020.
"America's Enduring Caste System," Isabel Wilkerson, New York Times Magazine, July 1, 2020.
Talks & Media Appearances
"There's No Place Like Home: Michelle Obama and Craig Robinson in conversation with Isabel Wilkerson," Obama Foundation, Oct 29, 2019.
"Isabel Wilkerson, J.D. Vance, Diane Guerrero," Face the Nation, 2017.
"Isabel Wilkerson: 2011 National Book Festival," Library of Congress, September 24, 2011.
"A Conversation with Isabel Wilkerson," The Poynter Fellowship in Journalism at Yale University, 2011.
What Other Books Did Participants Recommend?
"Biased by Jennifer Eberhardt"
"My 14 year old son suggested I read the novel "The Hate U Give" by Angie Thomas. It is realistic fiction and would be a good read along these lines with the youth group, especially as a way to connect with adults in a book club setting."
"Finding one about becoming an Ally would be good."
"I just finished 2 other good reads – Colson Whitehead's "The Underground Railroad" and "The Promise and the Dream", the untold story of Martin Luther King Jr. & Robert F. Kennedy by David Margolick."
"NOT "White Fragility". That book turned me off to this subject. Fortunately I read Caste!"
"Between the World and Me by Ta-Nehisi Coates. Written as a letter to his adolescent son about being a black man in America. VERY powerful"
"The Warmth of Other Suns – by Isabel Wilkerson – longer read but wonderful."
"Underground Railroad and Nickel Boys"
"I'm currently reading "The Sum of Us" by Heather McGhee – she is an economic policy expert who addresses whether racism is one reason that middle class Americans support policies that are economically disadvantageous to themselves. Her writing is sharp, she refers to research in this area in a new way and SUPPOSEDLY – has some suggestions on how to address the problem."
"Non Fiction: How to be an Antiracist, The New Jim Crow, Just Mercy, Unexampled Courage"
"Fiction: Americana, An American Marriage, The Vanishing Half"