FPCU 2023 Holiday Greens Festival
The Greens Festival is Dec 2, 2023 from 9am to 4pm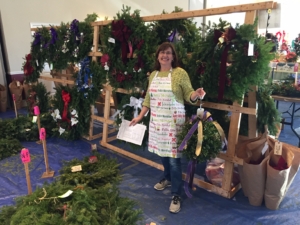 Dear Friends,
It's time for the First Parish Church United's Annual Holiday Greens Festival! This year we are going to continue old traditions in new ways.  All items except our delicious baked goods must be pre-ordered here to assure your choices.  We invite you to order online or use the individual order forms to order fresh greenery to decorate your home for the holidays, birdseed to feed your feathered friends through the Winter, ornaments for your holiday tree, and luminaries to light up your yard. Also, all of these items make great gifts for hosts, friends, and family!
Some important details about deadlines and pickup
The Greens Festival is Saturday, December 2nd from 9am to 4pm.  Greens, birdseed, and ornaments will be available for pickup during the Greens Festival, and luminary orders can be placed.  Additional pickup dates and delivery options below–
Holiday Greens

: To guarantee your choice of size, type, and colors, we need your prepaid order by

November 13th

! Your pre-ordered

Holiday Greens

can be picked up on

Saturday, December 2nd, but delivery is also available

. Don't forget to indicate colors and delivery info and donation as needed. 

Birdseed:

Orders

will be delivered to your home

as soon as your order is received. No lugging heavy bags!

Order by Dec 31st

. Please be sure to include delivery instructions on your order form. 

Ornaments

:

Order your handcrafted Dove of Peace, skillfully carved on a 2.5 inch round of beautiful cherry wood, an artistic collaboration with Westford's own Grapplewood Artisans and FPCU Ornament Committee.

Order by November 27th

.  Pickup on Saturday, December 2nd from 9am to 4pm. 

Luminaries

: New this year! FPCU and Boy Scout Troop 159 are joining together to

Light up the Town with Hope for the New Year

! Sold in sets of 12 luminaries.

Order by December 8th

. Pickup on Thursday, Dec. 14th or Dec. 21st from 7:30pm-8:30pm; or December 18th-22nd from 9am to 1pm.  
You can order two ways:
Order and pay for all items online using the ORDER ONLINE button to the right
-OR- 
Print order forms and return them

with your check

to the First Parish Church United, 48 Main Street, Westford, MA 01886.  You may use one check to pay for your total purchase of greens, birdseed, ornaments, and luminaries.
Interested in volunteering to make this event a success?
Click HERE to volunteer before, during, and after the Greens Festival
Click HERE to volunteer to help with the Luminary Sale
Questions?
Reach us at [email protected].
Thank You!
The holidays may seem far away, but we can better serve you when you order early. Your purchase as part of Greens Festival help to support the many activities of First Parish, as well as our Scout Troop #159, including the maintenance of our Fellowship Hall and historic Meetinghouse and our outreach to the wider community. Thank you for your support of First Parish Church United and our many endeavors. 
Wishing you a Healthy, Happy Holidays and The Best in the year ahead!
The Greens Festival Leadership Team
Click on the product gallery below to see descriptions of all items.  Return to this page to place your order. Note: the photos in the  gallery are meant to be representative, but actual products may differ in appearance.
All products can be ordered online, but if you prefer, you can click on the individual forms below to print a paper copy to mail in.