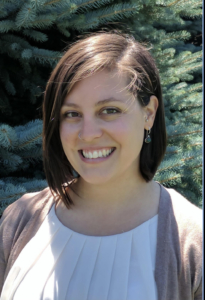 Rev. Rebecca Lockwood
Minister Reverend Rebecca Lockwood
Rev. Rebecca (Becca) Lockwood, a Maine native, comes to FPCU by way of Indiana. For six years Rev. Becca served as the Associate Pastor at St. Peter's UCC in Carmel, IN.
Rev. Becca has been affiliated with the United Church of Christ (UCC) for her entire life. She has two aunts and an uncle who are also ordained in the UCC. Rev. Becca received her Bachelor of Arts in Religious Studies from Hartwick College in Oneonta, NY. She then took time to volunteer at a Tibetan Buddhist book bindery, Yeshe De Text Preservation Project, in Cazadero, CA before continuing her studies at Andover Newton Theological School where she received her Master of Divinity in 2014.
Rev. Becca is thrilled to journey alongside the people of First Parish Church United. This is a place that respects and revels in the beauty of the natural world, assumes a posture of wonder in matters of spirituality and beliefs, engages challenging questions of identity and purpose, and above all is committed to being a place of welcome, justice-making, and embodying love. Some fun facts about Rev. Becca: She would live in water if she could (swimming is her favorite), Harry Potter is her favorite book series, she has a pup named Stella and loves to make art in many forms.
Office Admin
Debra Longto, a New York native has come to FPCU from O'ahu, Hawaii~where she moved to be near her grandchildren, Ava and Jack. While on Oahu she began working for St. John Lutheran Church and loved being a part of the church office. Now she is grateful to be a part of the FPCU community.
Her Grandchildren live in Alabama with their Mom and Dad and she gets to visit them as often as possible. She has a 9 year old pup named Mr. Buddy Brown and her favorite pastimes are going to the beach and cooking for her friends and family. Debra loves the mountains and Massachusetts reminds her of home.
Director of Religious Education Nicole Tracey
Nicole Tracey (Nicki) has worked part time here at FPCU as the Director of Religious Education, since 2012. She spends most her time here creating, preparing, implementing and leading RE lessons for PS-5th grade, while also overseeing the Nursery Caretaker, the Youth Group Advisor and many volunteers! She is a long time resident of Westford, graduating WA in 1999.
Nicki has also worked as a full time kindergarten teacher since 2006, at KinderCare here in Westford. She holds an Associates degree in Early Childhood Education, a Bachelors degree in Liberal Arts, with a focus in Psychology, and her MA state teacher license in early childhood education (PK-2nd grade) and elementary education (1st-6th grade).