Racial Justice Book Club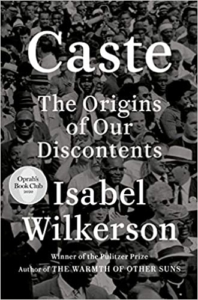 Action for Social Justice is reading the book "Caste" by Isabel Wilkerson. #1 NEW YORK TIMES BESTSELLER • OPRAH'S BOOK CLUB PICK • LONGLISTED FOR THE NATIONAL BOOK AWARD • "An instant American classic and almost certainly the keynote nonfiction book of the American century thus far."—Dwight Garner, The New York Times
Schedule:
Meeting #1 on Sunday Feb 21 at 5:00 PM – Origins & Evolution of Caste (Parts 1-3, pp. 1-164).
Meeting #2 on Sunday March 7 at 5:00 PM – Consequences and response to Caste (Parts 4-6, pp. 165-359)
Meeting #3 on Sunday March 14 at 5:00 PM – Awakening and Where do we go from here? (Part 7, pp. 359-389)
Want to join? Please contact beth@middlesexdesign.com
FPCU Book Group Covenant:
In an effort to listen, learn, and commit to being anti-racist, we promise to the following to the best of our ability:
We recognize that we are a group of mostly white people talking about racism, a system in which we hold the power as white people. We acknowledge and name our privilege in this space and will hold each other accountable when we forget.
This is a confidential space. What is said here, stays here. However, in an effort to grow with the wider community, if anything is shared outside of this group it is done so with the permission of the one who shared.
This is a brave space: this is messy and hard work and we will not do it perfectly. Therefore, when we mess up, we will acknowledge it and ask for forgiveness.
Likewise, we will assume the best intentions of all and offer grace as we go.
We don't know what we don't know. We will engage with a spirit of humility and openness.
Resources
America's Enduring Caste System New York Times Magazine. Isabel Wilkerson
What's the issue with Noah's son seeing him naked? Massachusetts Bible Society
Interviews
"Isabel Wilkerson: Writer" in "You Said Hope," essay By Jacqueline Woodson, interview by Justine Goode, Vanity Fair, September 2020.
"Isabel Wilkerson, 'Caste' (with Bryan Stevenson)," Politics and Prose, August 20, 2020.
"'Racism' Did Not Seem Sufficient: Author Isabel Wilkerson on the American Caste System," Justin Worland, TIME, July 23, 2020.
"Isabel Wilkerson This History is Long; This History Is Deep," On Being with Krista Tippett, November 17, 2016.
"Race And 2016: Isabel Wilkerson Weighs In," The Last Word, MSNBC, 2016.
Q&A with Isabel Wilkerson, C-Span, 2010.
"Great Migration: The African-American Exodus North," Fresh Air with Terry Gross, 2010.
Articles by Isabel
"America's 'untouchables': the silent power of the caste system," Isabel Wilkerson, The Guardian, July 28, 2020.
"America's Enduring Caste System," Isabel Wilkerson, New York Times Magazine, July 1, 2020.
Talks & Media Appearances
"There's No Place Like Home: Michelle Obama and Craig Robinson in conversation with Isabel Wilkerson," Obama Foundation, Oct 29, 2019.
"Isabel Wilkerson, J.D. Vance, Diane Guerrero," Face the Nation, 2017.
"Isabel Wilkerson: 2011 National Book Festival," Library of Congress, September 24, 2011.
"A Conversation with Isabel Wilkerson," The Poynter Fellowship in Journalism at Yale University, 2011.