Holiday Greens Festival – December 7, 2019 from 9 AM to 3 PM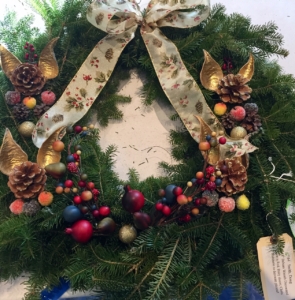 When the frost is on the pumpkin and the holiday season is approaching,  First Parish Church United is preparing for its annual Holiday Greens Festival. The event is held on the first Saturday in December from 9 am to 3 pm. We offer popular items such as wreaths, swags, roping, poinsettias, centerpieces, luminaries and other decorative items. Your order of holiday decorations from the Greens Festival helps to maintain our historic Meeting House & Fellowship Hall, as well as supporting the many outreach activities of our church including: Westford Farmers Market, Habitat for Humanity, AA, The Lowell Wish Project, Westford Food Pantry, Middlesex Shelter/LTLC & local scout groups, the annual Strawberry Festival and the Apple Blossom Pancake Breakfast.
How To Order
Print the forms to your left
Calculate the cost of your order
Pay with credit card or PayPal account using the button to your left
Or pay when you submit your order
Volunteers Needed
We need many many volunteers!  Any time you can share will help make this Greens Festival a huge success and you will have fun doing it.  Please take a look at the variety of different volunteer opportunities and consider signing up for those that are of interest to you.  If you have any questions please contact us at greensfestival@gmail.com  Thank you!!
Pictures from Past Festivals