Shamrockin Spaghetti Dinner on Saturday, March 16th starting at 6pm all are welcome! Cost of admission is $5 per child,$10 per adult, and $25 per family of four.
All the money raised from t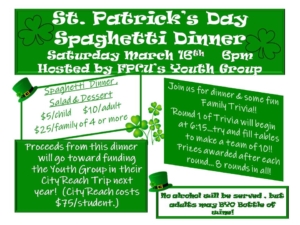 he dinner will go to the youths city reach trip next year! The program gives these young people the opportunity to learn first hand about homelessness from people who have experienced it. During the 20 hour session, participants join CityReach staff in street ministry and offer hospitality, food and clothing.
You can RSVP for the dinner with number of children and adults in your party by emailing me at AndrewRyan9532@gmail.com.